Supreme technology of forklift for warehouse management in the very narrow space with the special design of adjustable fork direction for 3 different sides, i.e., left turning fork, right turning fork and ordinary front fork. That will help minimize space utilization from turning the forklift unit to pick up cargo at only the front side as normal case. It can solve the problem of the very narrow and limited space between each shelf in the warehouse. So, it is worth that you can keep more cargo and maximize the warehouse space utilization. There are many other functions to facilitate the usage including the battery that can last longer up to 9 hours for heavy duty operation continuously.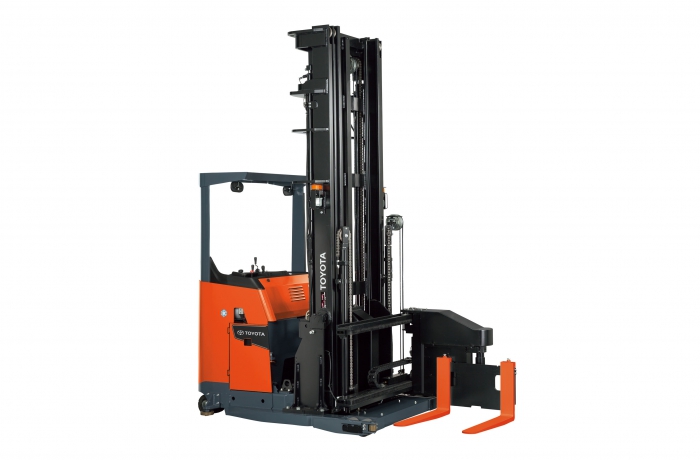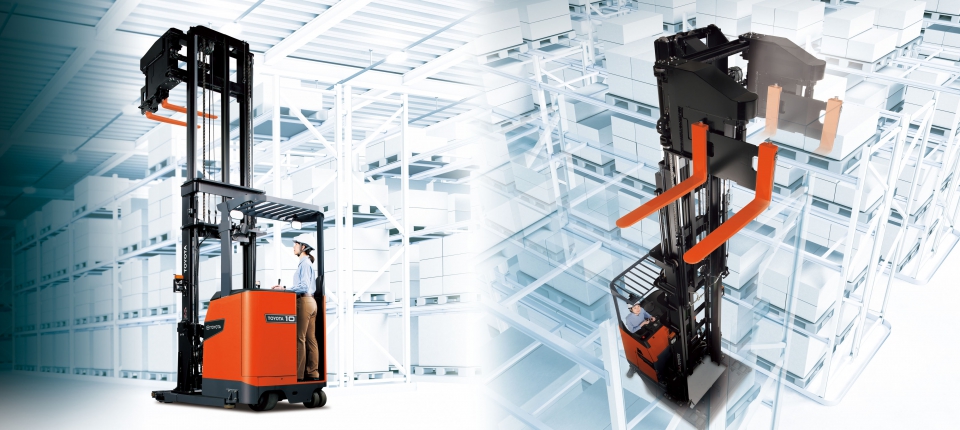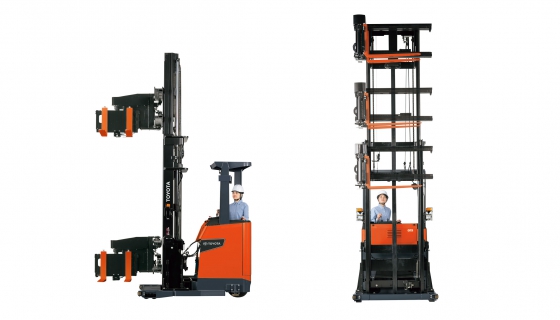 High Selector System
High technology of automatic fork height control function up to 18 levels to provide the lifting operation at higher level including the fork space estimation by laser for the accurate control.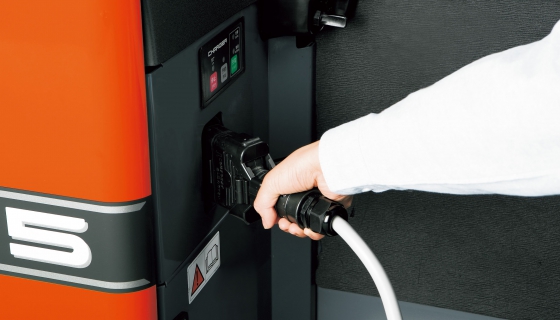 Supreme technology to control battery operation
Enhance the efficiency of battery operation with AC motor system to help the long lasting battery. The Load Handling Regenerative system will help quick power recovery while loading cargo. The function of Automatic Vehicle Speed Control will help speed adjustment for the smooth and safe operation.
Models
8RFBA7
8RFBA10
8RFBA12
8RFBA15
8RFBAS10
(H-mast)
8RFBAS12
(H-mast)
8RFBAS15
(H-mast)
Engine Type
Electric
Load Capacity
kg
700
1000
1200
1450
1000
1200
1500
Load Center
mm
550
550
550
550
550
550
550
Overall Width
(Pallet type 1,100 / Pallet type 1,200)
mm
1450/1550
1450/1550
1550/1650
1550/1650
1450/1550
1550/1650
1550/1650
Turning Radius (outside)
mm
1580
1750
1750
1910
1910
1910
1910
Overall Length
mm
2570
2750
2750
2900
2900
2900
2900
Voltage/Capacity
Min
V/Ah
48/280
48/280
48/280
48/320
48/390
48/390
48/390
Max
V/Ah
48/370
48/445
48/445
48/445
48/445
48/445
48/445
Electric Motors
Drive
kW
4.9
5.2
5.2
5.2
5.2
5.2
5.2
Load Handling
kW
8
11
11
11
11
11
11
Top