TRUST IN OUR POTENTIALITY OF SERVICE
At our Toyota forklift service centre, we have many professional mechanics team ready to serve you on maintenance service for your Toyota forklift with speedy and efficient operation. We can rest assure you to provide our best service through 14 branches covering the whole area nationwide with more than 200 service vans. So, you can trust in our high quality services of Toyota standard. That is our great key success to provide the most satisfaction of all customers requirements.
To keep the highest efficiency of forklift ready for heavy duty, you can design the inspection period of forklift and replacement of liquid by yourself as the following details.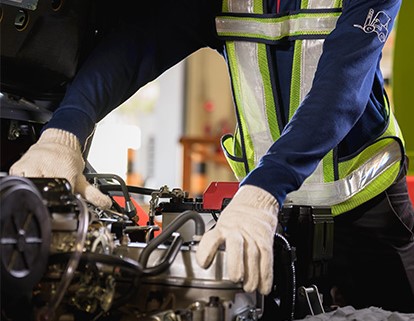 Service Contract
Checklist
(All Packages)
Forklift Type
Engine
Electric
Every 1 month

(12 Times / Year)

Fork lifting system
Every 2 month

(6 Times / Year)

Hydraulic system
Every 3 month

(4 Times / Year)

Turning control system
Own design
OPS system
Transmission system
Driving system
Engine and LPG system
Remarks: The number of warranty days after service will be varied upon spare parts type