PPE (Personal Protective Equipment) during forklift operation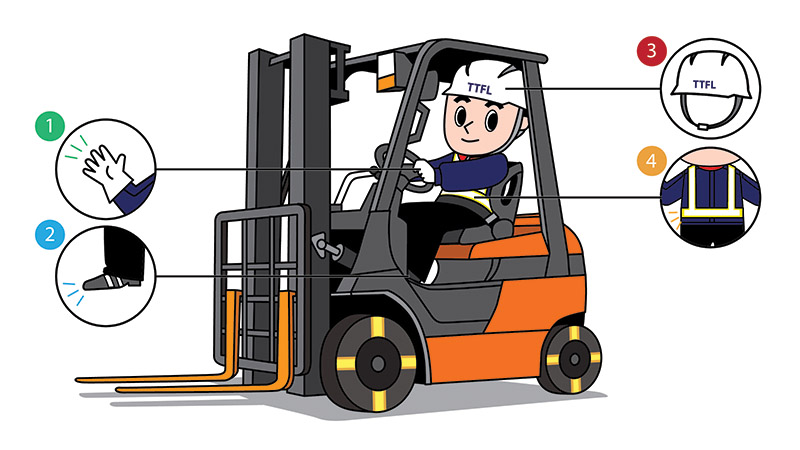 1. Safety gloves
2. Safety shoes
3. Safety helmet
4. Safety vest
Standard rules for forklift operation correctly and safely
The operators must be trained well before using.
Study the safe driving manual clearly before using forklift.
Study the safety rules & regulations of company before using forklift.
Always wear PPE when using forklift every time.
Always check the forklift conditions before using.
When found any defect or irregular conditions of forklift, please report to your superior or responsible person immediately.
Procedure and caution for forklift operarion
Get on-off the forklift with the proper posture every time in order to avoid any slippy accident.
Always assess the loading weight of goods to be lifted every time.
Keep a good center of gravity when lifting goods as well as fastening the stuff firmly.
Lift the fork at least 10 - 20 cm. height from the floor level during loading goods with a proper end-up angle of fork to avoid falling cargo.
Control speed limit according to company's rule.
Reduce speed or stop forklift and show the warning signal/alarm infront of the intersection, joint way or invisible corner.
In case the loading cargo's height is blocking your eyesight, then you have to drive backward.
In case the loading cargo's height is blocking your eyesight, but you have to drive forward or upper slope, then the navigator is needed.
To use forklift for carryig passengers is strictly prohibited.
The periodic maintenance for forklift must be done as per manual regularly.