Measures to prevent COVID-19 pandemic outbreak infection
23/03/2020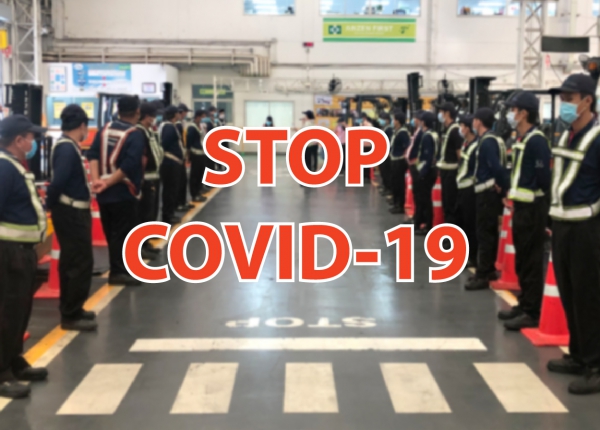 According to the current situation of COVID-19 pandemic outbreak that is severely spreading throughout the entire country at the moment, Toyota Tsusho Forklift (Thailand) Co., Ltd. is very much concerned on the health safety of all valued customers, suppliers, employees and all stakeholders. So, we have taken all possible measures to comply with the policy from Ministry of Public Health strictly. Therefore, we have managed the health check procedures, i.e., body thermometer, hygienic hand gels, keep social distancing at any risky working area around the company. We have also distributed the hygienic masks and hand gels to all employees. All these preventive procedures will protect the risks of COVID-19 infection to all employees and stakeholders who have trusted in our company for long.
Nevertheless, in order to ensure the highest safety measures under the COVID-19 pandemic outbreak crisis, we can rest assure all the valued customers for the best services through our branches network as follows:-
1. Head Office (Amata City Chonburi) Tel. 038-454-428
2. Ayutthaya (Wangnoi) Tel. 035-957-300
3. Chiangmai Tel. 053-111-636
4. Khonkaen Tel. 043-263-021,22
5. Nakhon Ratchasima Tel. 044-756-675
6. Nakhonsawan Tel. 056-371-224-25
7. Prachinburi Tel. 037-466-275
8. Rayong Tel. 038-058-106-07
9. Samutprakarn (Bang Phli) Tel. 02-312-4922,4930
10. Samutsakhon (Mahachai) Tel. 034-462-196-8
11. Songkhla Tel. 091-773-6933
12. Suratthani Tel. 077-319-513-14
13. Ubonratchathani Tel. 045-429-340,41
14. Udonthani Tel. 042-931-550-1
We do wish you and family for the great healthy conditions, stay safe from any disease against the pandemic outbreak crisis this time.
Thank you very much for your kind patronage and trust in our services continuously.
Toyota Tsusho Forklift (Thailand) Co., Ltd.