The starting point to change into the mode of automatic system from AGV Key Cart to support the cargo carrying in horizontal direction to provide the higher efficiency, safety and human less operation. With the innovative design by the specialized engineers, providing the compact body, precise but durable that can operate in the indoor area either warehouse or production lines. You can design the running tracks of vehicle up to 100 different routes. Meanwhile, there are many other options to respond your needs. If you are looking for the high performance Automated Guide Vehicle under the affordable price, the AGV Key Cart is the best answer to cover all your requirements.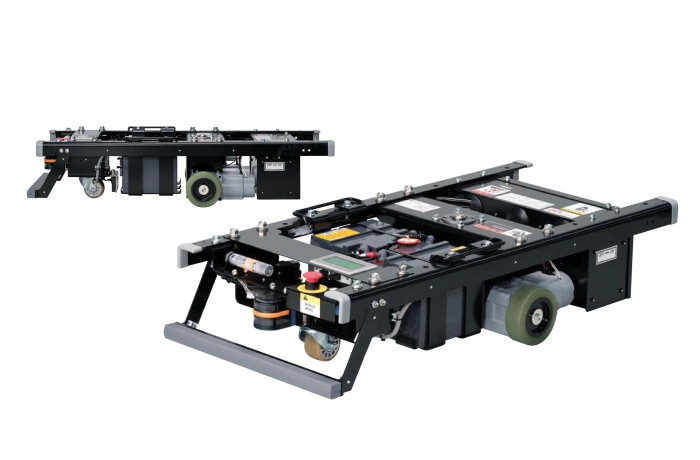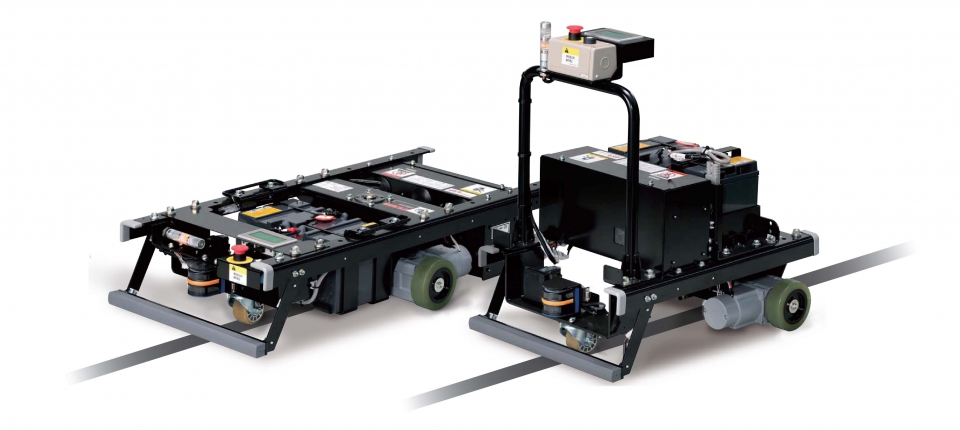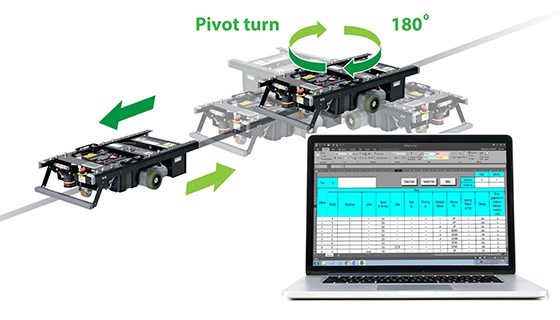 EASY CONTROL WITH EXCEL PROGRAM
The easiest way to control the vehicle with your own designed to order and set up the running route by using simple Excel program, no complication. Then you can control the operation of all AGV units under one screen and change the layout easily by excel program.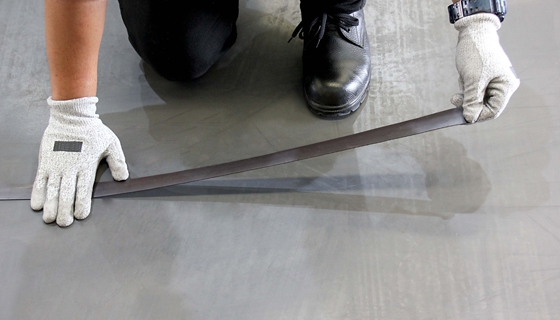 EASY INSTALLATION WITH COMFORTABLE USAGE
3 simple steps to operate the AGV Key Cart.
1.) Setting the layout and excel program.
2.) Install magnetic tape.
3.) Uploading the program to AGV Key Cart. That's it !!
Item
Unit
Specification
Type
Standard type
Tow type
Travel direction
-
Forward
Forward/reverse (opt.)
Battery capacity (5 hrs)
V/Ah
32 (opt.)
Key Cart dimensions
Overall length
mm
1,085
1,110
730
Overall width
mm
495
Overall height
mm
250 (Std.) / 315 (Battery side removal spec.)
800
Cart weight
kg
75 (inc. batterties)
Wheel base
mm
400 (when moving forward) / 450 (when reversing)
500
Min. guide tape radius
mm
R600 or C500
Max. Load
capacity
When loaded
kg
200 (when traveling at 30 m/min. or less) / 100
-
1-point towing
kg
500
3-point towing
kg
50
-
Max. speed
m/min.
50
Wheel size/
material
Drive wheels
mm
125/urethane
Casters
mm
75/urethane
Min. above ground height
mm
12 (drive unit)
Road surface level difference
mm
5 (when traveling at 15 m/min.)
Road surface undulations
mm
10 (within cart body plane of projection) (when traveling at 15 m/min.)
Floor construction
-
Concrete construction, bar arrangement depth: 70 mm or more
Road surface finishing
-
Assumed coefficient of friction at design stage: 0.6
Gradient
(3 min. rating)
%
3 (with 200 kg load) / 1 (when towing 500 kg)
Steering system
-
2-wheel differential speed steering
Ambient temperature range
°C
0 to 40
Ambient humidity range
%
20 to 100% RH (no condensation)
Operating environment conditions
-
Standard indoor environment
- There should be no dust, oil mist, or corrosive gas.
- There should be no exposure to rain.
- The road surface should not be wet or have puddles
- Optical sensors should not be exposed to direct sunlight
- There should be no exposure to thermal shock.
Top